Acing the Ophthalmology Oral Boards: OphthoGenie's Testing and Study Bank Features Explained
Nora Muakkassa, MD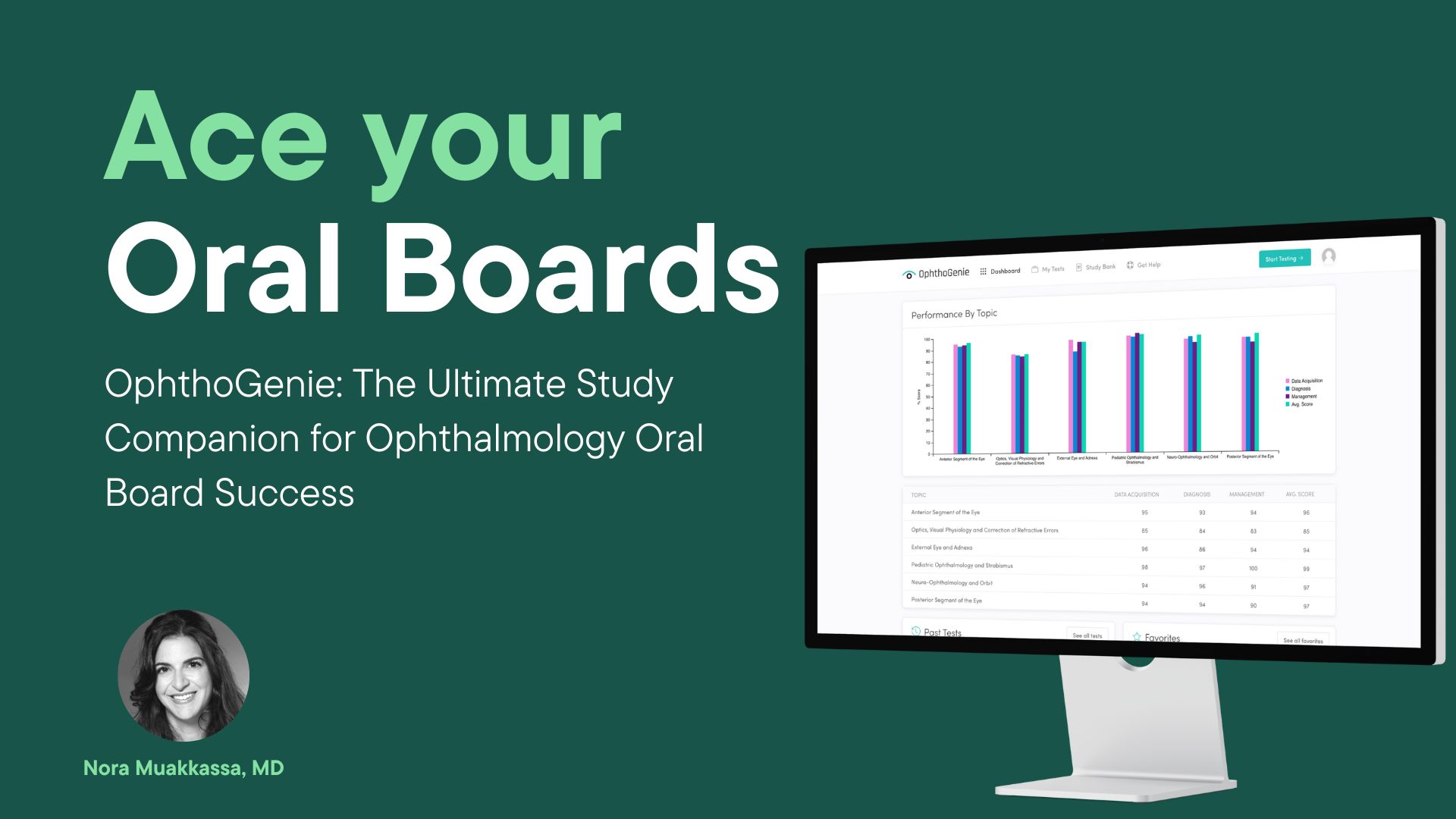 Now that you've found OphthoGenie, I'm sure you're wondering what's the best way to use this great tool! We've broken it down for you by feature. We know you're going to find the 200+ cases and realistic format invaluable during your study journey.
Generating tests
There are multiple options when generating an OG test, including: Beginner vs. Advanced Mode, seeing new cases only, topic area, single vs. paired topics, number of cases, and whether or not you would like to use a Study Buddy.
These features allow you to customize your testing experience based on the amount of time you have available and where you are on your study journey.
Beginner versus Advanced Mode:
Beginner Mode is best to use at the beginning of your studying journey. There are prompts to help you structure your answer in the 8 answer elements the ABO expects and there is no timing feature. This allows you to take your time working your way through the cases and helps you learn the correct answer format.
Advanced Mode, on the other hand, is best used when you are further along and provides you with a testing experience that closely mimics the real exam. In this mode, you are not presented with any prompts (other than the case stem) and there is a timing feature. Being able to complete the case in the alloted time is extremely important and this is where a lot of people struggle to pass the exam.
New cases only:
Select this feature if you want your test to be composed of only cases that have not been previously viewed.
Topic area:
This feature allows you to choose which of the six topic areas you would like your test to include.
Paired topics:
A test generated with paired topics includes questions from two different, but linked, topic areas. The paired topics on OG are identical to the paired topics featured on the ABO exam.
Number of cases:
The number of cases you select should be based on how much time you have to complete your "test". If you want to be tested with paired topics, your test needs to have at least two cases.
For the testing experience that most closely mimics the oral board examination, choose Advanced mode, a paired topic, 14 cases, and enable Study Buddy so your friend can grade you.
Self-grading
We get a lot of questions on how to grade yourself while studying for the oral board exam, and we understand why! The ABO is pretty secretive when it comes to grading. We know from their website that they expect the case to be answered in a particular format and that they grade test takers by topic and candidate performance criteria.
The six topics are (1) Anterior Segment of the Eye, (2) Optics, Visual Physiology and Correction of Refractive Errors, (3) External Eye and Adnexa, (4) Pediatric Ophthalmology and Strabismus, (5) Neuro-Ophthalmology and Orbit, and (6) Posterior Segment of the Eye. 
The three candidate performance criteria are data acquisition, diagnosis and management. 
The ABO states all 42 clinical cases are weighted equally and that they use "compensatory scoring" which means that a good performance in one area can partially make up for a poor performance in another. Beyond that, they do not reveal much including how many cases you need to get "right" to pass, or even what constitutes getting a case "right".
In each answer, you will see the case broken down into the 8 answer elements the ABO expects you to present: image description, history, physical exam, differential diagnosis, work-up, diagnosis, management and patient education. After reading the answers, it is up to you or your Study Buddy to decide if you got the question correct. The answers to the cases on OphthoGenie are very thorough and you do not need to get every single bullet point correct to get the case correct.
My general recommendation for grading is to give yourself credit for the answer if you feel you got the majority of the answer correct and if you hit all the major points. How harshly you grade yourself is up to you – the most important thing is that you are consistent in how you grade yourself while you are studying to get a sense of whether or not your performance is improving. 
Study Buddy
This feature was created pre-COVID but it's more relevant than ever, now that the exam is offered virtually. Study Buddy allows you to have a friend act as the examiner and grade you as you go along. They don't even need an OG subscription! Just click "Enable Study Buddy" when you're creating a test, enter their email address and they'll receive an email with a link to your exam. Their screen will show the case and the answers while yours will show the case alone. They can grade you as you work your way through the case and this data will go towards your performance metrics.
Study Bank
Study Bank is the entire repertoire of cases presented in a list format according to topic area. The cases and content are the same as what you see in the testing feature but are presented in a different format. With Study Bank, you can easily search for cases by name and can seek out specific cases to review (unlike the testing feature which presents cases to you). This is helpful for early studying when you may still be learning the material. The Study Bank also allows you to "star" cases to bookmark for later review which comes in handy during the final weeks of studying when you are trying to review specific cases you have had trouble with.
Analyzing performance metrics
On your dashboard, you can review your performance metrics broken down by topic and candidate performance criteria. These are the same criteria the ABO uses to grade you on your exam. This feature gives you an idea of where you are excelling and where you need to focus your studies.
Resetting data
OG offers a one-time complimentary data reset. This is a good thing to do once you've gone through all the cases at least once and are farther along in your studies. Resetting your data allows all the cases to revert to "unseen" and resets your performance metrics to 0. This lets you get a better sense of how you are currently performing.
We hope you've found this information helpful. You can always reach out to us at [email protected] if you have any other questions.